Hull school pupils get afternoon off to watch football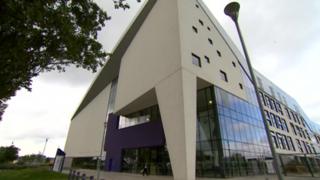 Students at a Hull secondary school will be allowed to take the afternoon off to watch the England v Wales game.
Archbishop Sentamu Academy pupils have been told they can go home on Thursday to watch the Euro 2016 match, watch it in school, or attend normal classes.
Speaking to the Hull Daily Mail, head teacher Andrew Chubb said he understood "how thrilling an occasion this is for so many people".
Some parents have condemned the school's decision.
One father said he thought "it was wrong".
"It shouldn't be interfering with their schooling, a game of football," he said.
"You're not allowed to have time off on holidays, so why for a game of football?"
Chris McGovern, chair of the Campaign for Real Education, described the move as "not a very wise decision".
"I'm not a killjoy at all, I'm a great football fan," he said.
"But I'm a bit old-fashioned. I think children should be in schools to learn things rather than watch football on the telly."
England take on Wales in Lens at 14:00 BST in the crucial Group B qualifying clash.