Grimston beagle-breeding farm judicial review fails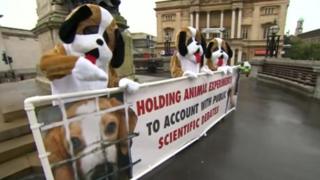 An animal rights group has lost a judicial review against government approval for a firm in East Yorkshire to breed dogs for medical experiments.
Cruelty Free International (CFI) challenged the decision in the High Court over planning permission for the B&K Universal site in Grimston.
CFI claimed the decision violated EU law as the dogs would have no outdoor space.
B&K Universal claimed outdoor access would expose the dogs to infections.
Proposals for the site were rejected in 2014 by East Riding of Yorkshire Council.
The Planning Inspectorate agreed with councillors, but the then Secretary of State for Communities and Local Government, Eric Pickles, approved planning permission in 2015.
CFI claimed the government's decision broke EU Directive 2010/63 which stipulates "that animal welfare considerations must be given a high priority and that dog breeding establishments are required to provide their dogs with outside access whenever possible".
'Health hazard'
Speaking after the judgement, Michelle Thew from CFI said: "The European Directive requirement for giving dogs used in highly unpleasant tests just a little protection has, with this judgement, been swept away.
"We are dismayed at the outcome of today's High Court case and will be considering with our lawyers whether to appeal."
B&K Universal had imported puppies and reared them at the site, near Withernsea. The new unit allowed the company to breed their own dogs.
In a statement, B&K said it welcomed the court's decision.
"The Home Office exempted our new building from having to provide outside runs after we presented extensive scientific evidence that this would present a health hazard to our dogs.
"It is the right result and follows more than four years of struggle with the planning system to obtain planning permission."