Hull's Fruit Market plans to recreate two historical squares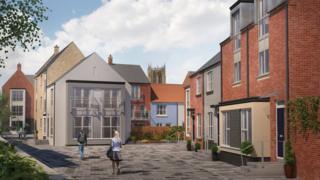 A planning application has been submitted for more than 100 homes as part of a £17m scheme to regenerate Hull's Fruit Market area.
The aim is to reinstate Scott's Square and Horner's Square that were previously demolished.
Councillor Steven Bayes, of Hull City Council, said he hoped the scheme would "put the area on the map as one of Hull's unique cultural gems".
The plans have been submitted by Wykeland Beal with the City Council.
The application includes four rebuilt commercial units on Humber Street suitable for retail units, restaurants or cafés.
Horner's Square dated back to the mid-1800s while records show Scott's Square was created from about 1757 by local builder Joseph Scott.