Broken leg strip search police officers guilty of misconduct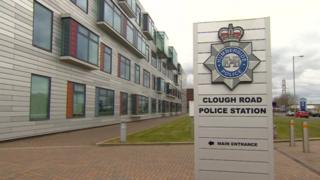 Five policemen involved in detaining a man with broken legs who was strip searched and left naked in a cell have been found guilty of misconduct.
The 49-year-old was arrested and held in custody at the police station on Clough Road, Hull, in February 2014.
An inquiry by the Independent Police Complaints Commission (IPCC) found he was left naked for five hours after being dragged into the station.
Humberside Police said the officers had been "dealt with appropriately".
All five were found guilty of gross misconduct.
Final written warnings were giving to sergeants David Beer and Nicholas Hunt, and officers Edmund Richardson and Kevin Dodgson, the force said.
Treatment 'wholly unacceptable'
Another detention officer is appealing against his final written warning.
The IPCC found PC Richardson and PC Dodgson had dragged the man, who spoke little English, into the custody suite despite him "pleading and showing signs of distress".
Sgt Beer and Sgt Hunt had failed to get him the medical attention he needed and were involved in a "haphazard approach" to the strip search.
The man was finally taken to hospital after an inspector carrying out a custody review summoned a doctor and an ambulance.
No charges were brought against him after police discovered the allegation which led to his arrest was false.
The IPCC said the man was "treated in a wholly unacceptable way" while he was detained.
Humberside Police said it had "fully" assisted the IPCC in its investigation and had "noted and acted upon" its recommendations.
Assistant Chief Constable Lee Freeman said: "All prisoners now have one clearly designated officer assigned to them on arrival in the custody suite to ensure the best level of care is provided.
"We also believe we have a sufficient stock of tracksuits now available to ensure we do not run short as happened on this occasion.
"Annually around 18,000 people are brought into the custody suites across the force and the vast majority pass through without incident."