Grimsby Kasbah dock buildings given go-ahead for demolition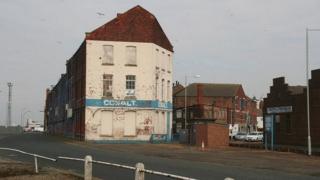 The go-ahead has been given to demolish four derelict buildings associated with Grimsby's fishing heritage.
Associated British Ports (ABP) aims to knock down the Cosalt and Hammond & Taylor buildings on Fish Dock Road.
The aim is to provide for an expected expansion of the offshore wind industry creating jobs for the region.
The Victorian Society said the move was "misguided, wrong and hugely damaging". North East Lincolnshire Council approved it by six votes to four.
'Identity forever reduced'
Historic England said it had "serious concerns" about the demolition, as the buildings made "an important contribution" to the town's heritage.
The demolition of the buildings will take place in the Victorian dock area known as the Kasbah.
A petition against the plans, started by the Victorian Society, has been signed by more than 400 people.
James Hughes, conservation adviser at the Victorian Society, called the move "misguided, wrong and hugely damaging".
He said: "The very integrity of the historic docks area would be irreparably and permanently diminished and our appreciation of their development and of the history and identity of Grimsby will be forever reduced."
An ABP spokesperson said Grimsby would become a "key hub for the growing offshore wind industry" and the port had to ready to "provide capacity and infrastructure for potential investors".