Melon-size tumour removed from Scunthorpe man's neck after 24 years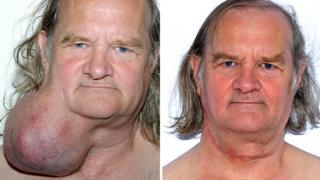 A man has had a tumour the size of a melon removed from his neck after living with it for 24 years.
Ian Crow said he decided to have the 1.2kg (2.6lb) lump removed because he got "fed up of it in the end".
The 66-year-old had lived with the "slow growing" tumour since 1992 and described it as "a part of him".
Mr Crow, of Ashby, near Scunthorpe, said: "It never hurt, I was able to sleep fine and the only time it really bothered me was in the summer."
He said the benign tumour started growing in 1992, but he simply "came to accept it".
The grandfather added: "In the end I did get fed up of it and wanted it removing. When I got to retirement age I felt it was time for it to go."
The tumour was removed in a two-hour operation at Scunthorpe General Hospital.
His wife Lillian said she was "glad it had gone".
"It got on my nerves especially when it got bigger. You couldn't cuddle up to him or anything because it was that huge," she said.
"When you're out people would stop and stare and that would really bother me."
Mr Crow's surgeon, Mr Ganapathy Dhanasekar, said: "It was a slow growing tumour, the size of which presented us with quite a challenge.
"But it all went very well and the scar is healing nicely and the most important thing is that the tumour was benign.
"The tumour was what we call a pleomorphic adenoma, which is a benign tumour of the parotid salivary gland."
Mr Crow, a retired factory worker, said: "I'm really surprised at how well the scar has healed, he's done a good job."
He said he was never concerned the tumour could be cancerous because he had "no pain from it" and refused to be seen by consultants until last year.
He said a new job working in a chicken factory at the time had prevented him from removing the tumour years ago because he did not want to take the time off work.