East Yorkshire GP banned due to working overseas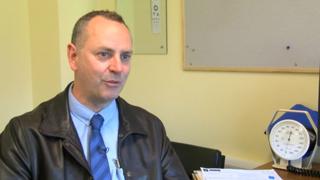 A UK-trained doctor with 19 years' experience has been barred from seeing patients because he worked overseas.
Dr David Gilmore is required to pass an exam before he can take up his post as a GP at a Bridlington practice.
Health Education England (HEE) said he needed to undertake the training "given the length of time he has spent outside the UK".
Dr Gilmore, who worked in Australia and the Isle of Man, has described the situation as "absolutely farcical".
"I'm here, I'm wanting to work," he said.
"I'm effectively being prevented to do so at this stage, which just seems absolutely farcical, especially as I was working as a GP full-time in the last 18 months."
Dr Gilmore said the ruling would would delay him starting work until August.
---
Vicky Johnson, BBC Look North Health Correspondent
Last month the head of the NHS, Simon Stevens, announced a multi-billion pound plan to get general practice back on its feet.
Spending will increase from £9.6 billion this year to over £12 billion by 2021. The aim is to recruit an extra 5,000 GPs over the next five years.
This should be good news for places like Bridlington, where there are currently ten GP vacancies - or 11 if Dr David Gilmore decides not to pursue extra training and assessments.
Health Education England insist that it's in the interests of patient safety that all doctors returning to general practice take some form of refresher scheme.
But if the NHS on the Isle of Man and the health service in Australia were happy with Dr Gilmore's medical credentials could there not have been a quicker and more efficient way of assessing his fitness to practice?
---
In a statement the HEE said it had contacted Dr Gilmore and worked to "get him through the system as quickly as possible".
"Unfortunately he does not qualify for the Portfolio Route of the Induction and Refresher scheme given the length of time he has spent outside the UK, and the gaps he has taken from clinical practice over the last five years."
Dr Krishna Kasaraneni from the British Medical Association said the ban did "not make sense".
He said: "I don't think there would be too many GPs who would be giving up Bondi Beach to work in Bridlington and when they do want to do that we're putting in more barriers ahead of them instead of making it a smooth process."