R38 Airship-wreckage candlesticks found at auction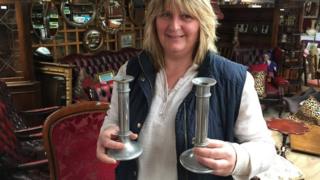 A woman who bought candlesticks thought to be made from wreckage of a crashed airship aims to give them to a museum.
Antique dealer Carol Cavanagh, bought the candlesticks in a £90 job lot at an auction in East Yorkshire.
It is believed they were made from metal taken from the R.38 airship, which crashed into the Humber at Hull in August 1921 killing 44 people.
Ms Cavanagh said: "It's an interesting thing, I'd love to donate them to a Hull museum."
The 8ins (20cm) tall candlesticks were part of a tray lot at an auction at Woodmansey, near Beverley.
One of the sticks is marked R38/ZR2, August 24th 1921 and an indistinct maker's mark.
"They could be an important piece of local history", said Miss Cavanagh.
Tom Goulder, assistant curator of Hull Museums, said its collection contained a candlestick, a jewellery trinket or charm and some fabric from the airship. The items though are not currently on display.
"These items were sold as souvenirs after the crash as the site of the disaster was very close to the city and easily accessible," he said.
The craft crashed while on a test flight from the nearby Howden airbase ahead of its planned acceptance into US Navy service.
It was 695ft long (212m) and 85ft (26m) high.
It crashed in flames into the Humber just off Victoria Pier in Hull.
Of the crew of 49, only five survived. Many of the victims were buried in a mass grave in a city cemetery.
The disaster effectively ended the military's interest in airships. The Howden base was later closed down and the buildings and equipment sold off.