Grimsby Town: Parade marks Mariners' return to League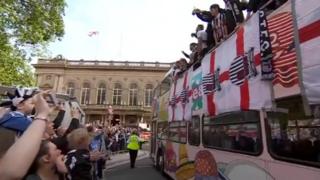 Thousands of people have lined the streets as Grimsby Town marked their promotion to the Football League with an open-top bus parade.
The Mariners secured a return to League Two with a 3-1 victory over Forest Green Rovers at Wembley on Sunday.
The parade, which set off from Blundell Park at 16:30, was followed by a civic reception for the players at Grimsby Town Hall.
Mayor Cliff Barber said the whole town had joined in the celebrations.
"It has got the town buzzing again. It is about time we had a feel good atmosphere again."
Grimsby have spent six years playing in non-league football, being beaten in a penalty shoot-out by Bristol Rovers in last year's play-off final.
This year they could achieve a memorable double if they win Sunday's FA Trophy Final against FC Halifax.
Ray Oxby, the leader of North East Lincolnshire Council, said: "It raises spirits and puts us on the map both nationally and internationally.
"We have got our pride back as a town and as a community and as a football club."