Labour maintains control of Hull City Council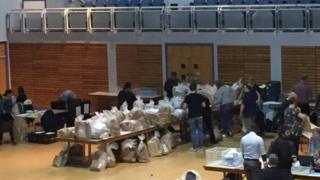 Labour has maintained control of Hull City Council, with the Liberal Democrats making a number of gains across the wider region.
In Hull, Labour held all but the Avenue ward, but lost two others in North East Lincolnshire, East Marsh and Park.
Hull City Council is made up of 59 seats, with 20 being contested this time around.
North East Lincolnshire Council remains hung, with Labour the largest party.
The lowest turnout was in South ward with 21.23% of those eligible took part.
The highest turnout in North East Lincolnshire was in Scartho, with 33.12%.
Ahead of the results in Hull, MP Karl Turner said he was concerned about voter apathy at local elections.
The city has four out of 10 areas nationwide where the fewest people have voted in recent local elections.
Results from the vote to elect a Police and Crime Commissioner for the Humberside force will be declared later.