Immingham Docks: Millions of smuggled cigarettes seized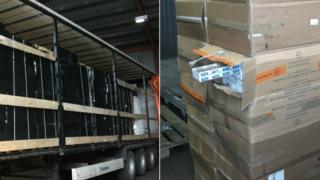 Almost nine million cigarettes hidden inside packages labelled as containing wooden flooring have been seized at a port on the River Humber.
Border Force officers searched a trailer at Immingham Docks which had arrived from the Netherlands on Thursday night.
They found 8,960,000 cigarettes inside 20 wooden pallets.
If undetected, the Border Force estimated the haul would have cost the Treasury £2.5m in unpaid duty and VAT.