£80m revamp plan for Hull's 200-year-old Fruit Market area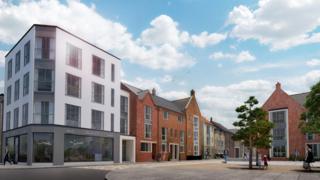 Plans for an £80m regeneration of Hull's Fruit Market, branded the city's cultural and creative quarter, have been unveiled.
It is to create an "urban village" with business, arts and leisure uses alongside new homes in the district's warehouses and cobbled streets.
Two Hull companies have formed Wykeland Beal to work in partnership with Hull City Council.
Regeneration work by the council is already taking place in Humber Street.
It is due to be finished in 2016.
The new project includes 109 homes arranged around courtyards.
Subject to planning consent, residential construction is expected to be finished by 2019.
The Fruit Market has been an area of economic activity for 200 years, the centre of the city's wholesale fruit and vegetable trade until 2009.
In recent years it found a new role as the city's artistic and cultural hub, the developers said.
Regeneration company Wykeland Group and residential developer Beal Homes said the rejuvenation of the Fruit Market would see £70m of privately-funded development in Hull.
Dominic Gibbons, Managing Director of Wykeland, said: "We're setting out our vision today, but it's important to stress this is being delivered here and now."
About £20m of development work has either been completed or is under construction, he said.
He added that with the further investment the Fruit Market would become "something extraordinary."