Bad parking is 'putting lives at risk' says fire service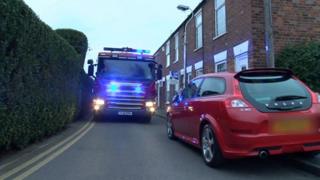 Drivers who block fire engines responding to emergencies through bad parking are on the rise on Humberside.
The fire service said it was becoming increasingly frequent and could mean the difference between "saving a life and recovering a body".
Responders aim to be at the scene of an emergency in eight minutes, but crews said bad parking could cost them five.
Humberside Fire and Rescue Service recently tweeted an image of a blocked fire engine to highlight the problem.
Phil Duckles, watch manager at Humberside Fire and Rescue Service, said: "Car drivers generally don't appreciate the size of a fire appliance and they park with enough room for another car to pass through, but when we manoeuvre through tight streets we often find we don't have the space to get through at speed.
"Our message to the public is to be aware of where you park and how you park - a 30 second delay to us can be the difference between saving a life and recovering a body."