Paul Spence founds centre for brain injury victims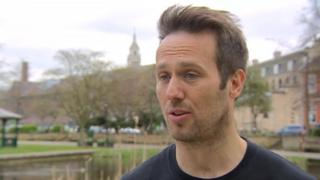 A brain injuries support centre has been founded by a man who suffered a life-threatening injury in an unprovoked attack.
Paul Spence, of Hull, suffered a brain haemorrhage after being attacked in a bar in the city in 2012.
He now has raised more than £50,000 for his Paul For Brain Recovery charity.
The new drop-in centre in the Wilberforce Health Centre in the city centre provides support and guidance for anyone affected.
Mr Spence said the attack "blew my life to pieces on every level you can imagine".
"I was faced with a two to three year recovery and told at the end I wouldn't be the same", he said.
He said the new centre would be "offering hope" and was specially designed for victims of brain injuries and their families.
Mr Spence has also donated £25,000 from his charity to Hull Royal Infirmary, which nursed him after the attack.
The Wilberforce Health Centre is on Story Street in Hull.