A18 death crash: Family's car 'shot across carriageway'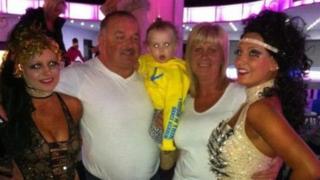 A driver has told an inquest how a car carrying five people left the road and then "shot across the carriageway" into the path of an oncoming lorry.
Angela and David Cockburn, their two daughters and granddaughter, died on the A18 near Grimsby in April 2013.
Brian Blyth, who was driving behind their car, said he saw the vehicle "wobble" and put all four wheels on the verge before hitting the lorry.
The family, from County Durham, were travelling to Skegness.
Mr and Mrs Cockburn 48 and 49, their daughters Carley Ann, 21, Bethany, 18, and Bethany's one-year-old daughter, Lacie, died in crash.
Mr Blyth told Cleethorpes Coroners' Court the weather conditions on the day of the crash had been good.
He said he had been driving at about 50mph (80kmph) and the Cockburn's car had been maintaining a steady distance.
He said: "The back of the Primera wobbled, it left the road, all four wheels were on the verge."
He said it then "shot across the carriageway" and hit the lorry.
The lawyer acting on behalf of the Cockburn family, Gail Farrington, told the inquest there was a "perfectly obvious" 22-metre (72ft) rut by the side of he carriageway.
She said the rut was between 100mm (3.9in) and 140mm (5.5in) deep and questioned Highways Inspector Martin Graham as to why it had not been found during an inspection carried out 10 days before the crash.
Mr Graham said: "I was always told verges are not part of the inspection."
The inquest continues.