Beverley's Lakeminster Park eviction-threat residents refuse to move out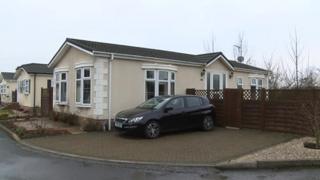 Some residents at an East Yorkshire chalet park are refusing to move out despite an eviction notice coming into force.
Retrospective planning permission for people to live year-round at Lakeminster Park, near Beverley, was refused in 2012 by East Riding Council.
Following appeals, the decision was upheld and residents were given 18 months from September 2014 to move out.
About 20 of the 73 chalets still remain occupied despite the deadline.
David Aldcroft said he was staying in his home until there was a definitive ruling.
"I'm hoping that some solution will be found that will satisfy us all without too much upheaval, really. Ideally, it would be wonderful if we won residency here which is a long shot."
Alan Menzies, director of planning and economic regeneration at the council, said: "In line with the evidence given to the public inquiry, the council has offered, and continues to offer, support to those living on the site, with many already taking up offers of accommodation from this council, from other councils or by making private arrangements.
"The council is urging those who have yet to make alternative housing arrangements to do so and the council's housing service can be contacted to discuss their housing needs.
"Following the end of the 18-month period of compliance, the council will verify the situation on site and then consider the further ways to ensure compliance with the enforcement notice".