Family death crash: A18 "very narrow" crash inquest told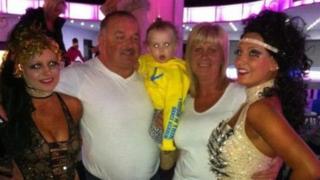 A motorist involved in a crash on the same road where five people died has told an inquest the carriageway "seems very narrow".
Natasha Peart said she was dazzled by a lorry coming towards her and swerved on the A18 near Grimsby.
Ms Peart gave her evidence at the inquest into the deaths of five members of the Cockburn family, from County Durham, killed on the A18 in 2013.
But a police officer who examined the road said he had found no defects.
Angela and David Cockburn, 48 and 49, their daughters Carley Ann, 21, Bethany, 18, and Bethany's one-year-old daughter Lacie, died on the A18 near Grimsby in April 2013.
Ms Peart told the inquest the incident she was involved in happened about three months before the crash involving the Cockburn family.
She said she felt she had no room to pass the lorry and her car partly went on to the roadside.
She said: "I tried to correct it. That was my initial instinct but the car just took itself. It spun. It came on to the carriage way and spun."
She told the inquest her car had ended up in a hedge on the opposite side of the road and said the A18 seemed to be a "very narrow" road.
"It could definitely do with being wider each way," she said.
Retired PC Mark Boyd, however, told the inquest: "I've examined the carriageway and have found no defect.
"I can only conclude her perception of the lorry was closer than it was."
The Cockburn family were travelling to a dance competition in Skegness when their car collided with a lorry.
The inquest at Cleethorpes Coroners' Court continues.