'Magic legs' for cerebral palsy twin Louie Elbourne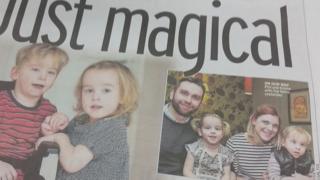 Thousands of pounds have been raised for a boy to have the same "magic legs" operation as his twin sister.
Ava Elbourne, aged three, received pioneering surgery on the NHS which has allowed her to walk.
But her twin brother Louie was denied treatment as his condition is more complex.
Following an appeal, £52,000 was pledged by Daily Mirror readers and Variety in just 24 hours.
Their parents, Emma and Phil Elbourne, from Hull, said the news was "overwhelming".
"There isn't a day goes by that Louie says 'can I walk, can I kneel'," said Mrs Elbourne.
"He is into everything a toddler should be and he looks at Ava and wants to be doing the same thing."
She told the Daily Mirror: "Louie will now have his magic legs and be just like Ava.
"This is beyond anything we could have dreamed of."
She added: "It has been difficult for us, but this is like a ton of bricks has been taken off our shoulders."
The twins were born prematurely and have cerebral palsy.
Ava had surgery called selective dorsal rhizotomy in January, which involves cutting nerves in the lower spine, but because Louie's condition is more severe he was not accepted to be part of a three-year NHS trial.
Ava is now walking with the help of sticks.
Mr and Mrs Elbourne said they were desperate to give Louie the same chance.
Almost £18,000 had been raised by the family before their story featured in the newspaper.
Louie 's grandparents even put their home on the market so they could downsize to help with the fees, the newspaper reported.
Readers pledged a further £20,000, with Variety making up the shortfall to reach the £70,000 target.
It is hoped Louie can have the surgery before his fourth birthday in August.
He has been approved for the five-hour operation at St Louis Children's Hospital in the US, where the surgery was pioneered, his parents said.