Hull UK City of Culture starts to sell itself to the world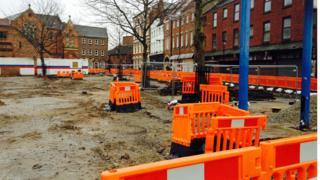 Hull has been visited by a group from the UK's international tourism body in an attempt to promote the city around the world.
The delegation from Visit Britain visited museums and other local attractions.
Hull will host the year-long UK City of Culture arts festival next year.
Garry Taylor, from Hull City Council, said the visit was "incredibly important" in promoting the city to an international audience.
"Visit Britain are incredibly influential," he said.
"The role they play internationally in changing perceptions, them experiencing Hull first hand is incredibly important.
"The conversations we've having, it's not the place that they were expecting it to be."
Hull is undergoing a £25m revamp ahead of next year's festival.
Streets are being repaved and new lighting installed to highlight the city's landmark buildings.
More than £15m is being spent refurbishing the New Theatre and the Ferens Art Gallery.