Haile Sand wartime fortress for sale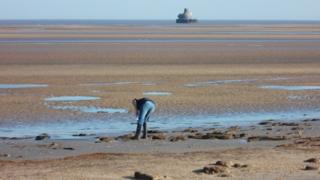 A wartime fortress in the Humber Estuary has been put up for sale for £350,000.
Haile Sand Fort was built between 1915 and 1918 to protect the area from attack.
The building is constructed from reinforced concrete, with steel armoured plating, and features "lots of storage space, panoramic sea views and a log burner".
Its owner described it as needing a "bit of work".
During World War Two, Haile Sand Fort and nearby Bull Sand Fort, which is near Spurn Head, were regularly attacked by German U-Boats and aircraft.
A steel mesh stretched between them across the mouth of the estuary to prevent enemy submarines getting to Hull and Grimsby.
The forts were finally abandoned by the military in 1956.
Bull Sand Fort was bought by the Streetwise Charitable Trust, which wanted to create a drug rehabilitation facility.
Last year, a 19th Century sea fort built to ward off French invaders was re-launched as a hotel.
No Man's Fort, situated in the Solent about 1.5 miles (2.2km) off the Isle of Wight, once housed more than 70 soldiers.
Manager Mark Watts said: "It was pretty much a blank canvas when we started, large open chambers, and extremely secure."
He said the hotel, which has hot tubs on the roof and wine tasting events, is ideal for people who want to "get away from it all".
Haile Sand's owner said the property would suit a buyer with "time and vision".