Migrants found in lorry on Hull ferry after Netherlands crossing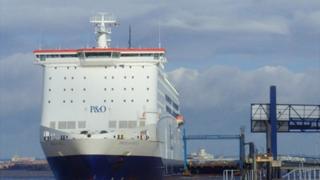 Eighteen migrants have been found in the back of a lorry on a P&O ferry in Hull after travelling from the Netherlands.
The group evaded security in Europoort, Rotterdam, and hid on the freight deck of the Pride of Hull ferry, P&O said.
After it docked, they were found during a routine UK Border Force search.
The 51-year-old male driver of the lorry has been arrested on suspicion of facilitating illegal immigration and is being held for questioning.
The eighteen people will be interviewed by immigration officers, UK Border Force said.
A spokesman for P&O Ferries said: "We will continue to work closely with the UK Border Force and call on Europoort to strengthen security measures."