Hull City of Culture 2017: £700k open-air venue planned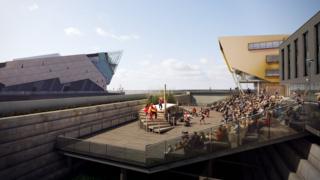 A £700,000 open-air venue is to be built in time for Hull's City of Culture celebrations in 2017.
The amphitheatre will be the only new permanent performance space created for the year-long event.
Developers at the Wykeland Group will convert the Grade-II listed Central Dry Dock into a 350-seat space called Stage @The Dock.
It will be run by the organisers of the city's annual Freedom Festival in conjunction with the Hull 2017 charity.
Work is due to be completed by Easter.
Mikey Martins, from the Freedom Festival Arts Trust, said: "We are looking for arts organisations - local and from further afield - to really get behind the venue, use the amazing location to their advantage and help us make it a success."
The facility - which will comprise a decked performance area and terraced seating - is part of a revamp of the Central Dry Dock, which has been disused for 20 years.
It forms part of Wykeland's £15m development of the Fruit Market area.