Hull Preston Road homes revamp plan on show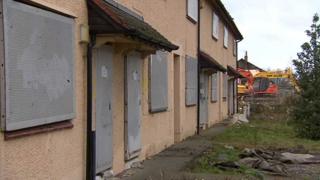 Plans to revamp hundreds of homes in a part of Hull have gone on display.
About 340 council homes in the Preston Road area will be refurbished to make them more energy efficient and modern, the authority says.
It is part of a £5.7m regeneration scheme which includes 1,000 new homes being built and 514 old properties demolished.
Councillor John Black said it would "improve the housing stock and attract more people to the area".
He said the upgrade would "benefit residents long-term by reducing the amount of fuel they use".
The plans have been put on show at the Freedom Centre.
Preliminary work is due to take place later this month and the whole scheme, including construction of the new-build properties, is expected to be completed by April next year.