Damaged pipe leaves 400 Hull homes without gas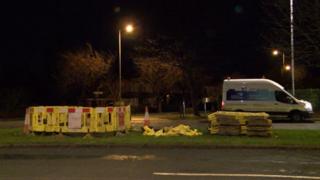 Up to 400 homes in west Hull have been left without gas after water from a burst pipe got into the gas mains.
The supply was cut in the Bricknell Avenue area on Tuesday, forcing the closure of a secondary school and a college.
Sian Fletcher, from Northern Gas Networks (NGN), said the water main had been repaired but engineers were still checking the gas pipe for damage.
Ms Fletcher said she hoped the supply would be restored soon.
"It's a big engineering job," she said.
"There are a few stages that need to happen before we can get people safely back on gas."
NGN has set up a centre at Kelvin Hall school providing hot food and drink and is giving electric heaters and hotplates to customers.
Ms Fletcher said that engineers needed to get into all the affected homes to switch off the gas supply at the meter before repairs to the pipe could be made.