Howden a 'ghost town' as HSBC pulls out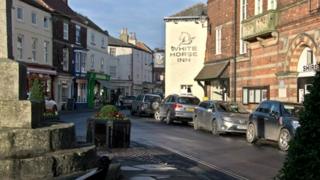 Traders in an East Yorkshire market town have said it will soon become a "ghost town" after the loss of its last high street bank.
HSBC pulled out of Howden last week due to declining use and a growth in online banking.
Two pubs are also due to close in the town.
Howden's mayor, Hugh Roberts, said he feared shoppers would travel to Goole, four miles away, instead of doing business in the small market town.
The Post Office on Bridgegate is now the only local alternative for banking and cash.
Two shops in the centre have indoor cash points, but close at 22:00 GMT. There are two more 24-hour cash points on the outskirts of the town.
Traders said Howden feels like a "ghost town" with "parking spaces galore" and businesses closing earlier as most shoppers have left by mid-afternoon.