Environment Agency admits East Yorkshire drainage backlog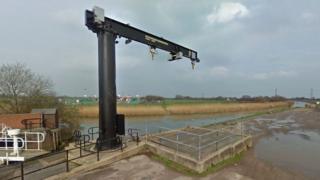 The Environment Agency is not keeping up with flood prevention measures in East Yorkshire, a drainage board said.
Beverley and North Holderness Internal Drainage Board (IDB) said the agency had not maintained its watercourses - vital in flooding protection.
The agency said the backlog was due to new health and safety procedures and recent flooding.
The IDB said it had had to carry out much of the agency's work that should have been done last summer.
Martin Voase, of the IDB, said: "If it hadn't been for us cleaning some of the main rivers - the responsibility of the Environment Agency, the state of the drainage system would be worse than it is at the moment.
"But it's too late, we should have been cleaning the drains in August, September, October, ready for when the rain comes."
The Environment Agency said it recently signed an agreement to allow the two organisations to collaborate and speed up maintenance.
It said it was "grateful" to the IDB for help over the past year and with the summer backlog.
"We are currently improving its health and safety approval procedures for work within two metres of a watercourse, to ensure the safety and wellbeing of our staff," it said in a statement.
"While the new procedures are being introduced, we are prioritising watercourse maintenance based on flood risk to people and properties.
"Our operational maintenance work has also been delayed by our response to the recent flooding that occurred across Yorkshire and Cumbria over the Christmas period."
The Agency said when river levels returned to normal, it would revert to clearing the backlog and continue with the normal maintenance programme.
East Yorkshire suffered serious flooding in 2007, when up to 10,000 properties were flooded.
Last July, a £45m plan was agreed to improve flood defences along the River Hull.