Hull McDonald's shooting: Man bailed while manhunt continues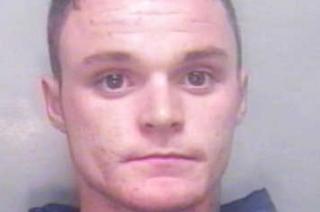 A man arrested in connection with a shooting in a McDonald's car park in Hull has been bailed.
The 28-year-old man was held on suspicion of conspiracy after searches in the Priory Road area of the city.
The windows of a Volkswagen Golf were shot out in St Andrews Quay on Saturday. No-one was hurt.
Humberside Police are continuing to hunt Liam Windass, 24, of Rosedale Grove, Hull. Officers said he may be armed.
Armed officers surrounded a school west of the city on Wednesday after a man believed to be Mr Windass - who has also been known to have given his surname as Windas to the police - was seen nearby.
In a direct appeal to Mr Windass, Sup Darren Wildbore said: "Everyone is innocent until proven guilty and if you have done nothing wrong you have nothing to fear in coming forward.
"However, it is important that we speak to you in connection with this very serious incident and, as long as you remain at large, we will continue our efforts to track you down and will not stop until we have caught you."
Mr Windass is described as 5ft 8ins tall with short straight hair and bearing a scar to his left eye.
The force believes he still "remains in the Hull area and is being helped in evading arrest by family and friends".
Officers believe he is no longer "a danger to the general public".
Eight people have been arrested so far, including a 22-year-old man. He was detained on suspicion of attempted murder on Wednesday but was later released on bail.