Raiders rip cash machine from Pocklington Co-op wall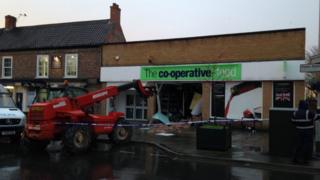 Robbers have ripped a cash machine from a supermarket wall using equipment stolen from a nearby building site.
A gang of three to four people rammed a vehicle into the side of the Co-op in the East Yorkshire town of Pocklington at about 01:45 GMT, police said.
A stolen telescopic handler was then used to remove the cash machine from outside the store in George Street.
The machine was placed in the back of a white pick-up truck before being driven away by the raiders.