Hull McDonald's shooting: Police continue hunt for gunman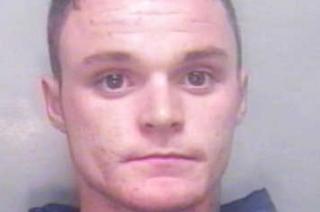 Police are continuing to hunt for a man wanted in connection with a shooting in a McDonald's car park in Hull.
The windows of a Volkswagen Golf were shot out in St Andrews Quay on Saturday. No-one was hurt.
Humberside Police are searching for Liam Windass, 24, of Rosedale Grove, Hull. Officers said he may be armed and dangerous.
Armed officers surrounded a school west of the city on Wednesday after a man believed to be him was seen nearby.
Searches were carried out at Sirius Academy and in the Pickering Road area after a Peugeot 206, driven by Mr Windass - who has also been known to have given his surname as Windas to the police - was abandoned nearby following a pursuit in which he failed to stop, the force said.
Children attending after-school clubs were "taken to a place of safety" as officers believed Mr Windass "ran into the school".
Sup Darren Downs said: "Searches within the site of a local school and surrounding areas did not result in Liam Windass being located and our enquiries are still very much continuing."
Officers are now focusing their efforts around the Kilnwick Avenue area of the city and a 28-year-old man has been arrested in connection with the shooting, the force said.
Mr Windass is described as 5ft 8ins tall, with short straight hair and bearing a scar to his left eye.
'Evading capture'
Supt Darren Downs said: "We remain convinced that he is being assisted in evading capture.
"I issue both an appeal and a warning to any associates who might be involved in any way, that they may be placing themselves on the wrong side of the law too, and for them to get in touch with us."
A 22-year-old man arrested on suspicion of attempted murder on Wednesday has been released on bail.