Armed police surround Hull's Sirius Academy school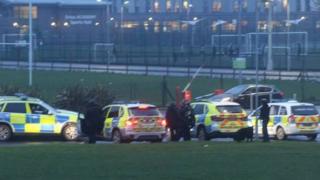 Armed police surrounded and searched a school in Hull.
The stand-off at Sirius Academy in the Pickering Road area was linked to the hunt "for a man wanted in connection with a recent offence", officers said.
Humberside Police said children attending after-school clubs were "taken to a place of safety".
The force would not confirm if the pursuit was linked to a shooting at McDonald's car park in St Andrews Quay on Saturday.
It tweeted on Wednesday evening to announce searches of the school had concluded with no arrests made.
Taxi driver Damian Welburn said: "I picked up a passenger and was driving down Pickering Road when [I saw] a police car.
"I pulled over and then all of a sudden this little [Peugeot] 206 came flying down on the opposite side of the road."
Mr Welburn said the next thing he saw was "a police car damaged at the side of the road with the 206 damaged underneath a bridge".
Police earlier released details of a man wanted in connection with Saturday's shooting.
Officers said Liam Windass, of Rosedale Grove, could be armed and dangerous.
A 22-year-old man has been arrested on suspicion of attempted murder.