New £8.4m Lincs Inspire leisure centre opens in Grimsby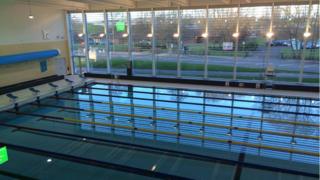 A new £8.4m leisure centre has opened in Grimsby, replacing the town's former swimming pool.
Grimsby Swimming Pool, known as Scartho Baths, closed last month and is due to be demolished to make way for a "recreational open space".
Its replacement, Lincs Inspire, on Cromwell Road, was "more modern", North East Lincolnshire Council said.
Residents campaigned against Scartho Baths' closure and handed in a 6,000-name petition to the council.
Sue Wells, chief executive of non-profit Lincs Inspire Limited, said the old pool was at the "end of its life."
"It was better for the local authority to put investment into a brand new facility, which is more modern and in keeping with today's youth," she said.
The new leisure centre has a new 8-lane and 25m pool, a 68-station gym, steam room & sauna.
Demolition of Scartho Baths, including removal of asbestos, is expected to cost over £1m.
Work on the site is expected to begin soon, the council said.