Hull named in top 10 Rough Guides destination list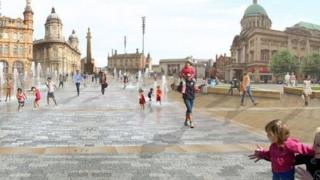 Hull has been named one of the top 10 tourist destinations for the year ahead.
It joins Vancouver, Reykjavik and Amsterdam in the Rough Guides list of the best cities to visit in 2016.
A £25m revamp of the centre of Hull is under way, in preparation for hosting the UK City of Culture event in 2017.
Martin Green, chief executive of Hull's City of Culture organisers, said the guide was "ahead of the curve".
He said the city was "going through great positive change".
World's Top 10 Cities for 2016
Reykjavik, Iceland
Mexico City, Mexico
Seoul, South Korea
Ljubljana, Slovenia
Wroclaw, Poland
Nashville, USA
Amsterdam, Netherlands
Hull, UK
Vancouver, Canada
Agra, India
Source: Rough Guide
"I think this is a great recognition that Hull is a city changing and on the up," said Mr Green.
"Like a lot of cities of its type Hull has suffered economically, but I think there is a lot going on here to change that and it's not just about the fact we are the UK City of Culture in 17."
"They [Rough Guides] like to get ahead of the curve and signpost what's coming up."
Hull was the only UK city to make it on to the top 10 list.
The guide described Hull as having "atmospheric old-timey pubs, eight excellent museums and a picturesque Old Town with cobbled streets".
Hull's contribution to culture and history
Poets associated with the city include Andrew Marvell, Stevie Smith and Philip Larkin.
Daniel Defoe's famous fictional castaway, Robinson Crusoe, set sail from Queen's Dock in Hull on 1 September 1651.
Amy Johnson, the first female pilot to fly solo from Britain to Australia, was born in Hull in 1903.
The city was the birthplace of J. Arthur Rank in 1888, who went on to found the British film studio that bears his name. Rank's childhood home has recently been restored.
The Bounty, skippered by the infamous Captain William Bligh, was built and launched in Hull.