Humberside fire service plans would 'increase risk to public'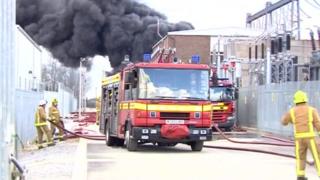 Plans to cut the number of Humberside Fire and Rescue engines will "increase risk to the public and firefighters" according to the Fire Brigades Union.
Plans are to merge two stations and axe a fire engine in Immingham, in North East Lincolnshire, and also reduce engines in East Yorkshire.
The fire authority said it would not comment on the plans until a consultation began in January.
The authority proposes to save £1m from its 2016/17 budget.
Richard Walker, brigade secretary for Humberside FBU, said he was "disappointed more cuts were on the agenda" and blamed the government's austerity campaign.
"It will increase risk to the public and firefighters, everybody is concerned about job cuts, but it is mainly public safety".
"Once fire engines go they will never come back", he added.
Mr Walker said up to 24 posts could be lost in Immingham and it was unclear how many jobs could go due to the other proposals.
If the savings are approved "no further operational savings would be required" until 2019/20, according to a fire service document.
A six-week consultation is to begin on 11 January and reported to March's fire authority meeting.
A proposal to remove one full-time fire engine from Immingham was discussed in January 2014, but not approved by the authority.