Hull and East Yorkshire Hospitals NHS Trust jobs at risk from outsource plan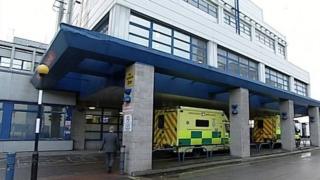 Hull and East Yorkshire Hospitals NHS Trust is considering outsourcing financial services to lower its debt, with 19 jobs affected.
The trust, which runs Hull Royal Infirmary and Castle Hill Hospital in Cottingham, currently has a deficit of about £17m.
Union officials described the trust's plan as "drastic" and "disappointing".
Outsourcing of such services by trusts to another NHS organisation was "not unusual", a trust spokesman said.
The services affected include ledger maintenance and the trust's debtor and creditor functions.
'No more fat left'
Lee Bond, chief finance officer for the trust, said: "Given just how serious our financial position is right now, we have to act to find ways of reducing our costs and ensuring we are able to maintain our focus on the quality of clinical services.
"In light of this, we have been looking at our internal systems and processes, such as accounting, to see whether and where savings are able to be made.
"Outsourcing of such services is not unusual for NHS organisations locally or nationally."
Ray Gray, regional secretary for Unison, said: "We're always disappointed when it gets to the point of pulling a contract out and giving it to a different provider - it's never good for the staff, it usually ends up in redundancies or a reduction in the terms and conditions of employment.
"There is no more fat left to take out of the NHS, we are probably working as lean as we possibly can do now, so to make cuts in a service like that is going to be drastic."