Oil and gas drilling operations are to continue in East Yorkshire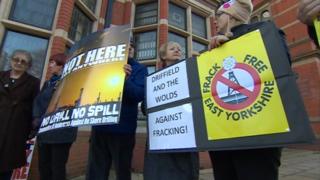 A company drilling for oil and gas at an exploratory borehole is allowed to continue operations in East Yorkshire.
East Riding councillors were unanimous in their decision to give Rathlin Energy a further three years to explore reserves at its West Newton site.
Drilling will be for gas and oil, but Rathlin has been the focus of anti-fracking protests for years.
The council said it is backing the operation because it believes sufficient safeguards are in place.
Rathlin is permitted to drill a well, burn any gas produced during the drilling or testing of the well and to release surface water from the site.
However, environmental protesters believe the move is preparing the region for a form of shale gas drilling, known as fracking.
The firm started its drilling and testing operations at the West Newton site in 2013.
Despite councillors imposing a "no fracking" condition in the decision, protesters said they remained frustrated with the council's approach.
Jon Mager, an environmental campaigner, said: "These developments are right in the centre of Yorkshire's nature triangle, but this is worse because continued use of fossil fuels mean global warming accelerates."
Rathlin Energy, which has discovered natural gas at the site, said the decision was a key step in discovering if the gas had "commercial potential."
Several arrests have been made since May last year, when anti-fracking protesters set up camp at the two sites in West Newton and Crawberry Hill, Walkington.
They were later removed by bailiffs in January.