No charges after claims police spied on family, say CPS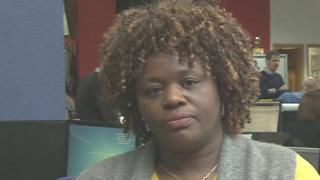 The sister of a former paratrooper who died in police custody has learnt four senior officers in charge of her surveillance are not to be prosecuted.
Janet Alder has been told by the Crown Prosecution Service (CPS) there will be no prosecutions for misconduct.
Miss Alder said she "was shocked and gutted" by the decision as surveillance had been "a terrorising experience" and she "wanted somebody held to account".
Christopher Alder, 37, died in police custody in Hull in 1998.
Miss Alder said she wanted the Independent Police Complaints Commission (IPCC) to disclose all the evidence it held and would consider an appeal.
In 2006, the IPCC found four police officers were guilty of the "most serious neglect of duty" over the death of the ex-paratrooper.
Mr Alder died while lying face down and unconscious in a pool of blood in a police custody suite in Hull, as a group of officers stood chatting nearby.
'Total nightmare'
Five officers were cleared of manslaughter and misconduct in 2002 over his death.
The jury at the 2000 inquest found he had been killed unlawfully.
Miss Alder said the years since her brother's death had been "a total nightmare" and she had feared people would think her "paranoid or attention seeking" when she talked of surveillance.
However, the CPS decision had given her the "satisfaction my thoughts turned out to be right".
The operation had started before the inquest into Mr Alder's death in July 2000, the CPS said in a letter to Miss Alder, explaining the decision not to prosecute the officers.
Information about the surveillance came entirely from officers that took part in or supervised it, the CPS said.
The police had mounted the undercover operation in anticipation of potential public disorder at the inquest, it added.
Miss Alder said: "We gave no cause to anybody outside the court to be concerned.
"I've always felt that I've not always been given the full truth."
'A broader remit'
Deputy Chief Constable Garry Forsyth, of Humberside Police, said: "We note the decision of the Crown Prosecution Service which the family of Christopher Alder have the right to appeal."
The CPS letter told told Ms Alder there was evidence the surveillance team had used "a broader remit" than its authorisation allowed.
A file on the surveillance during the inquest had been sent by the IPCC to the CPS.
The surveillance came to light when a serving Humberside Police officer told superiors of the operation.
It followed media coverage of an alleged smear campaign by the police against the family of murdered teenager Stephen Lawrence in 1993.