Body of whale on Cleethorpes beach washed out to sea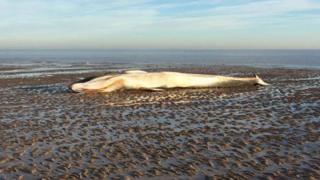 The body of a whale found on a beach in Lincolnshire has been washed out to sea, according to the coastguard.
The animal, thought to be either a Fin or Minke whale, was found at low tide on Cleethorpes beach, a mile from shore on Thursday.
The 10m-long (33ft) carcass was carried away on the high tide later that day, although the coastguard said it could return on the next tide.
North East Lincolnshire Council closed the area over health concerns.
A council spokesman said: "Diseases can be transmitted from the bodies of dead mammals to humans and we advise people to stay well away from it."