Beverley and Withernsea to get total of 37 redeployed police officers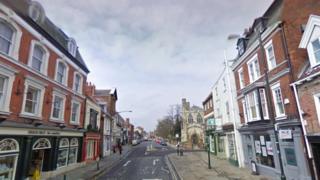 Two towns in East Yorkshire are to see increased numbers of police officers after redeployment from other parts of the county.
Beverley is to get 26 more police officers and Withernsea 11, said Humberside Police.
Ch Supt Scott Young said the moves were a "planned review" of the "one force" changes introduced in April.
The officers would provide a permanent "patrol and response capability" and be in post by February, he said.
Beverley police station is currently staffed by 14 police officers and 17 Police Community Support Officers (PCSO) while Withernsea has four police officers and nine PCSO.
Mathew Grove, the Humberside Police and Crime Commissioner, said the changes introduced in April were "never going to be perfectly designed from day one".
He welcomed the officers for the two towns, expected to come from locations such as Bridlington and Hull, and said the force had responded quickly to "the realities of the geography" of a "far-flung" area.
Humberside Police was rated inadequate in a review of police efficiency across England and Wales, in October.
The HMIC report said the "one force" changes had "had difficulty in providing the right level of staff in the right places to make it work effectively".