Humberside PCC criticises council plan to review force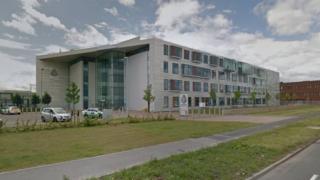 Humberside's police commissioner has accused a council of "political opportunism" over its plan to review the force's performance.
East Riding councillors have backed a call for the authority's Police Scrutiny Review Panel to reconvene after the force was rated inadequate.
Police and Crime Commissioner Matthew Grove said councillors were "stepping on ground that wasn't theirs".
Council deputy leader Jonathon Owen said there were concerns.
The report, published last month, was based on an inspection in June of Humberside Police by Her Majesty's Inspectorate of Constabulary (HMIC).
It said the force was "inadequate" at keeping people safe and reducing crime, though rated the force "good" for its short and long-term financial position.
'Responsibility to residents'
Conservative Mr Owen's motion calling for the panel to be "reconvened urgently" was approved at a meeting of the full council earlier.
He said there were concerns over responses to 101 calls and the new "one force model", which means officers can be deployed anywhere instead of working in traditional geographical areas.
Mr Owen said: "I feel we have a specific responsibility to our residents.
"In the East Riding we contribute just under 40% to the police budget and I fear that a lot of that funding probably gets dragged into the more problematic areas.'
"On behalf of the East Riding residents, I think we are perfectly within our rights to ask both the chief constable and police crime commissioner to be accountable to us as well."
Mr Grove said he had recently met with the HMIC inspector who carried out the report and he was "very positive" about the improvements the force had made.
He said the proper way for him to be scrutinised was through the Humberside Police and Crime Panel.
He added: "Everyone in Humberside Police has their heads to the ground working hard in what are very challenging times for the police service.
"We do not need political distractions like this to divert us from the vital work of keeping the public safe."