St William's home: Ex-principal 'allowed naked swimming'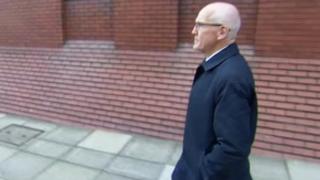 An ex-principal accused of sex offences at a children's home allowed boys to go for late-night swims at the on-site pool without trunks on, a court heard.
James Carragher denies 50 counts of indecent assault between the 1970s and the 1990s at St William's in Market Weighton, East Riding of Yorkshire.
Ian Shepherd, an ex-housemaster, told the court he was "very concerned" after a boy told him about the nude swimming.
At Leeds Crown Court, Mr Carragher also denies 12 other serious sex offences.
On Monday, the jury was told the 75-year-old, of Merseyside, was jailed for seven years in 1993 and 14 years in 2004 for sex offences.
The home for boys with behavioural problems was run by the Catholic De La Salle order. It has since closed.
Earlier, the court heard from several former members of staff who worked at the site during the 1970s and 1980s.
Mr Shepherd said he was told that some boys had been taken swimming "after lights-out" at the home.
He told the court: "I was very concerned as the boys did not wear any swimming trunks."
Mr Shepherd also told the jury that boys would regularly visit Mr Carragher in his living quarters.
He said: "I would usually get a call around six to six-thirty in the evening and he would be requesting three or four boys from my unit to go to his quarters."
'Topless and sweating'
Mr Carragher is on trial along with former chaplain at St William's, Anthony McCallen, 69, and former teacher 62-year-old Michael Curran.
The jury was previously told how Mr McCallen was convicted of abusing two boys in the 1990s.
Mr Curran has no previous convictions.
A statement made to police in 2011 by Anthony Stockoe, a former residential social worker at the college, was read to the court.
He told police that Mr McCallen would take boys to a room where he got them to "wrestle".
He said: "The lads would often come back from these sessions topless and sweating and say they had been wrestling, actually with Father McCallen."
The defence was unable to cross-examine Mr Stockoe as a witness as he has since died.
Mr McCallen, of Merseyside, denies 18 indecent assaults and seven other serious sexual offences.
Mr Curran, of Teesside, denies one count of assault occasioning actual bodily harm and another of indecent assault.
The trial continues.