Siemens' Green Port Hull turbine factory contractor picked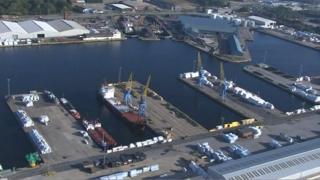 A contractor has been appointed to build parts of a £310m wind turbine production and installation facility.
Dutch company VolkerFitzpatrick is due to start work next month on building a blade factory for Siemen's Green Port Hull operation on Alexandra Dock.
The engineering firm is investing £160m while Associated British Ports (ABP), which owns and operates the dock, is putting £150m into the project.
Siemens said 200 jobs would be created during the construction period alone.
It claims the facility would create up to 1,000 jobs.
The 40,000 sq m (10 acre) blade factory is part of a 540,000 sq m (133 acre) development - equivalent to 78 football pitches - which includes manufacturing, assembly and servicing factories.
The facility, which will build 75m-long (246ft) rotor blades designed for 6MW turbines, is expected to be operational by autumn next year.
Production on the first batch of turbines for an offshore wind farm off the Norfolk coast is scheduled to start early 2017.
Siemens' Hull Project Director Finbarr Dowling said: "We are delighted to have signed the contract for construction of the blade factory, which is another significant milestone for the project.
"People will soon see steel rising from the ground and be able to observe our progress as this state-of-the-art facility takes shape."
Richard Offord, managing director of VolkerFitzpatrick, said: "We are very proud to have been awarded the contract to build the blade factory for Siemens in Hull.
"For this project, we aim to employ 40% of total labour within a 50-mile radius with 25% from within a 20-mile radius. The majority of our key trade packages are within the north of England, as too is most of their labour."
Preparatory work, including the construction of a new harbour on the dock, started earlier this year.
Green Port Hull was first announced in January 2011 and was granted planning permission in May 2012.