Grimston beagle breeding farm approved by government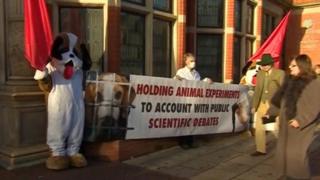 Plans for a facility allowing beagles to be bred for use in animal experiments have been approved.
B&K Universal's proposals were rejected last year by East Riding Council over potential noise concerns at the Grimston site.
The Planning Inspectorate agreed with councillors but the Secretary of State dismissed its recommendation.
The company welcomed the government's recommendation, describing it as a "sensible decision".
B&K Universal currently imports puppies and rears them at the site, near Withernsea. The new unit will allow the company to breed their own dogs.
David Gatehouse, for B&K Universal, said he hoped the new facility would be a "world-leading unit".
"A significant factor is that we will no longer have to transport our dogs in from abroad," he said.
Protesters against the proposal submitted a 40,000 signature petition to the council in 2014.
'Betrayal'
The local authority said it "notes the decision made by the Secretary of State" and would "review the decision notice in its entirety".
The National Anti-Vivisection Society condemned the government's decision.
President Jan Creamer said: "This is a betrayal of the animals, the public and science."
B&K Universal belongs to American-owned Marshall BioResources, which breeds and sells animals globally for use in vivisection laboratories.
The original planning application in 2013 - made under the name of Yorkshire Evergreen - detailed proposals to build a facility housing 2,000 beagles and ferrets.
This was turned down and a second application for a smaller site for 200 dogs and ferrets was put forward.
It was rejected again by the council last year.