Hull to get new professional ice hockey team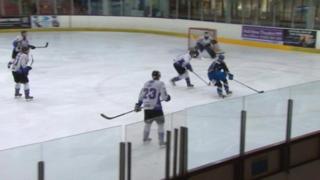 Hull will be home to a new ice hockey team, just weeks after the city's existing side went into liquidation.
Newly-formed Hull Pirates will play at the council-run Hull Arena, Hull City Council has announced.
The venue was the home of the Hull Stingrays who went into liquidation last month after the loss of a sponsorship deal.
Hull Pirates will play in the English Premier League (EPL), the second tier of professional ice hockey in the UK.
A council spokeswoman said the authority was not providing financial support for the new team.
Labour councillor Terry Geraghty, chair of culture and leisure, said he was "absolutely thrilled" about the new team.
'A few challenges'
"We moved extremely quickly and have worked hard behind the scenes to secure the future of ice hockey in Hull," he said.
"We are really looking forward to seeing the team hone local talent, develop their plans and ambitions and work extensively with the community to raise the profile of the sport and encourage young people across the city to get involved."
The demise of the Stingrays, who played in the British Elite League, left Hull without a professional ice hockey team for the first time in 27 years.
Hull Pirates' owner Shane Smith said the club was still finalising the team's logo and recruiting a head coach and players, before the start of the season in September.
He said: "We will have a few challenges along the way with putting the team together so late, but I'm sure the city will support us as we believe given the chance.
"We will have one of the top teams in the EPL in a few years."