Killingholme power station to close with loss of 50 jobs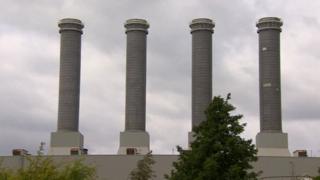 A gas-fired power station in North Lincolnshire is to close, owners have announced.
About 50 people are employed at the Killingholme power station, which stopped generating power in March.
But the GMB union said the closure could lead to the loss of hundreds of jobs in the supply chain.
Energy firm E.ON said market conditions were "very challenging and too big to overcome". Staff will continue to work at the site until the end of the year.
Chief Executive Tony Cocker said: "My main priority is our colleagues at Killingholme and we will continue to do all we can to help them through this difficult and uncertain time."
Mr Cocker claimed the company had "exhausted every possible option to try to keep the plant viable".
GMB national officer Phil Whitehurst said: "This is bad news for at least 500 workers and their families in the supply chain who operate, service and maintain what is a viable combined cycle gas turbine station that has years of life left in it."
The plant in Killingholme is one of two gas-fired power stations in the area.
The other is owned by energy company Centrica and was handed a short-term reprieve after it was earmarked for closure earlier this year.