Deland Allman found guilty of murdering fiancée at Ibis Hotel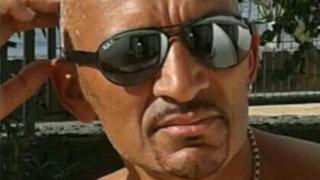 A man has been found guilty of murdering his fiancée in a Hull hotel.
Christina Spillane, 51, also known as Christina Randell, was found stabbed three times and strangled in the Ibis hotel in the city centre on 1 February.
Deland Allman, 52, denied murder but pleaded guilty to manslaughter. He told a jury at Hull Crown Court he was mentally ill at the time of the killing.
Allman, of Halyard Croft, Hull, will be sentenced on 1 July.
The prosecution said Allman killed his partner in a fit of anger after accusing her of having an affair with his cousin.
On the evening of her death, the couple had checked into the Ibis Hotel at 21:30 GMT to try reconcile their relationship.
They had split up the previous month following an incident in which Allman had tried to strangle her, the court was told.
The 51-year-old grandmother had "suffered at the hands" of Allman many times but she always went back to him, the jury heard.
CCTV images were shown in court including one of Allman leaving the hotel holding something to his cheek while Christina lay dead in the room.
Ms Spillane had been a sex worker, a drug user and a victim of domestic abuse in her 30 year relationship with Allman, the court heard.
He was a violent, controlling and jealous individual who also took drugs, the jury was told.
His defence lawyers claimed he was suffering from schizophrenia and was mentally impaired at the time of the murder.
Speaking outside court, Ms Randell's daughter, Naomi Randell said she was relieved at the verdict, adding: "It's not going to bring her back.
"She was killed for something she never did."