Murder accused Deland Allman 'intended to kill' fiancée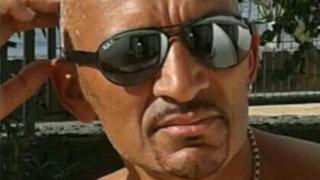 A man accused of stabbing his fiancée to death in a Hull hotel room had intended to kill her, a court has heard.
Christina Spillane, 51, also known as Christina Randell, was found dead in the Ibis hotel on 1 February.
Deland Allman, 52, of Halyard Croft, Hull, denies murder but has pleaded guilty to manslaughter.
Hull Crown Court heard closing speeches from both the prosecution and the defence in the week-long trial.
Ms Spillane had worked as a prostitute and had been a victim of domestic abuse in her 30 year relationship with Mr Allman, the jury heard.
Mr Allman was a violent, controlling and jealous individual and a drug user, the court was told.
The prosecution said in the hours leading up to Ms Spillane's death he was acting in a rational way.
CCTV image of the couple seen booking into the Ibis hotel just two hours before she was killed was referred to in court.
'Pick up the knife'
Prosecutor Patrick Palmer said: "There's no doubt at the time of the killing this defendant knew he was killing Christina Spillane.
"It was his decision to pick up the knife. He intended to kill her. You can be sure that his responsibility for this murder was not diminished in any way at all."
For the defence, Dean Armstrong QC said: "You've heard so much technical evidence but it's going to come down to your common sense.
"Were his beliefs rational or irrational? Were they out of touch with reality?"
His honour Judge Jeremy Richardson QC is expected to begin summing up the case on Wednesday.