Christina Spillane murder: Accused 'had schizophrenia'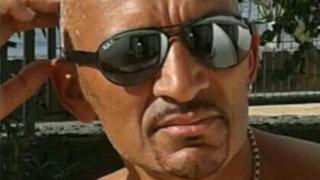 A man accused of stabbing his fiancée to death in a hotel room had schizophrenia, a court has heard.
The body of 51-year-old Christina Spillane, also known as Christina Randell, was discovered in the Ibis hotel in Hull on 1 February.
Deland Allman, 52, of Halyard Croft, Hull, denies murder but has pleaded guilty to manslaughter.
Hull Crown Court heard he was mentally impaired at the time of the killing.
On the first day of his defence, consultant forensic psychiatrist Jennifer Shaw said that on interviewing Mr Allman he had told her how he was convinced Ms Spillane was having an affair with his cousin Hank, and his family were conspiring against him.
'Hearing voices'
Professor Shaw said Mr Allman believed his step-daughter had fitted the house with cameras in an attempt to try to frame him for drug dealing.
He had been hearing voices since 2013, around the same time that he had started taking cocaine, she told the court.
Professor Shaw said she thought these beliefs were delusional.
She said: "I believe he was suffering from a paranoid psychotic disorder, which started around 2013. He had a definite mental disorder - schizophrenia."
When questioned by defence barrister Dean Armstrong QC about whether this impaired his ability to exercise self control on the night in question, she replied: "Yes".
The mother-of-two had been stabbed three times before being strangled, the court was told.
The prosecution claimed Mr Allman had a history of being violent and killed his partner in a fit of anger after accusing her of having an affair with his cousin.
The trial continues.