Plans for third East Yorkshire oil and gas drill site approved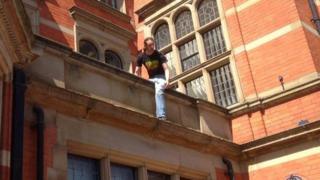 Proposals by a Canadian energy company to drill an exploratory borehole for oil and gas at a third site in East Yorkshire have been approved.
Rathlin Energy started its drilling and testing operations at West Newton and Crawberry Hill, Walkington, in 2013.
Planning permission at the third West Newton site, known as B, was approved at a council meeting amid a protester climbing onto the roof of the offices.
Campaigners said they were concerned about the impact on the environment.
Simone Butterworth, a former leader of Hull City Council and campaigner, said: "We have seen the damage and risks at West Newton A...
"We do not need a gas field here in Holderness."
Several arrests have been made since May last year when protestors first arrived and set up camp at the two sites.
In January bailiffs were brought in to remove the camp after the council ordered all caravans, tents and wooden structures to be removed after notices were served on 2 December.