Hull nurse suspended for hitting elderly stroke patient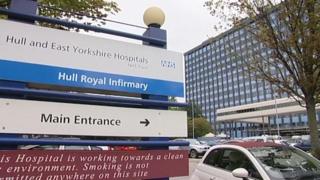 A nurse who struck a stroke patient has been suspended after a disciplinary committee found her guilty of misconduct.
A Nursing and Midwifery Council (NMC) panel heard Tracy Horton slapped an elderly patient on his hand at Hull Royal Infirmary after he refused to have a medical mitten fitted.
The panel suspended her from practising as a nurse for six months.
She has the right to appeal against the NMC's ruling.
According to the disciplinary panel's report, the incident took place on 21 August 2013 on Ward 11 at Hull Royal Infirmary. Ms Horton was attempting to fit a medical mitten on the left hand of a man in his 70s, in order to prevent him from removing a feeding tube.
In her defence, Ms Horton claimed she had hit the patient "instinctively" after he had grabbed her arm, causing her pain.
'Deplorable'
The slap was reported to hospital management by a nurse who witnessed the incident.
The panel heard Ms Horton was dismissed from her job by Hull and East Yorkshire Hospital NHS Trust following a disciplinary hearing in January 2014. She was later reinstated following an appeal in July 2014.
In its judgment, the NMC panel said: "The panel concluded that your conduct was such that it would be considered 'deplorable' and was therefore a sufficiently serious departure from acceptable standards so as to amount to misconduct."