Abandoned river boats 'a flood risk' to Hull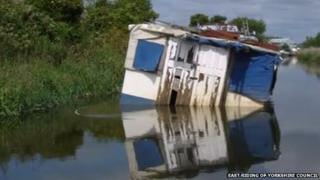 Around 20 sunken and abandoned boats on the River Hull river pose a flood risk, it has been claimed.
East Riding of Yorkshire Council are looking for the owners of the vessels, some of which have been there 10 years.
The council said "limited funding" was available to help the owners move their boats, which include trawlers, barges and leisure craft.
It created a 3-D "fly-through" video of the sunken and abandoned vessels between Beverley and Hull Bridge.
Dave Waudby of East Yorkshire Council said the £4.5m plan was to improve drainage and reduce flood risk in Hull and the East Riding over the next six years.
"Large volumes of silt and other obstructions under the water line causes problems with the flow and increase the risk of flooding," he said.
"We need to identify the owners of the sunken and abandoned boats to get them removed and we urge anyone with information to contact the council."
The Environment Agency and River Hull Advisory Board are helping the council to identify the owners, who will have six weeks to respond.
The vessels will then be removed and the river dredged.
Many of the boats are more than 50 years old. One has an old caravan parked on it as a cabin and the council said at least one steel barge had been part-filled with concrete.
Mr Waudby said increased pumping and more measures to reduce the tidal effect at the mouth of the River Hull were also needed to reduce flood risk in the area.
In 2011, Bristol Council held an auction for abandoned boats on the harbourside because the storage yard was becoming full.
East Yorkshire Council said it was proving so hard to identify the owners because the River Hull is a "free navigation" with no vessel registration process.